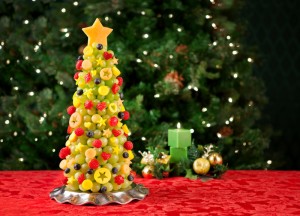 Wishing you and your family a peaceful and mindful Christmas.
Many years ago, I was at a family Christmas get together that was extremely emotional and stressful – family tensions were high, there were high expectations of what Christmas had to be as it might have been the 'last' Christmas for one of the family members.
After about 20 minutes of shoving Christmas nibbles into my mouth I realised I had been unconsciously or unmindfully eating to deal with the stress.  It was the liquorice lolly that I put in my mouth that made me realise what I was doing – as I really don't like the taste of liquorice.  Yet I'd put it in my mouth because it was there and it was something to do!
So my first wish is that this Christmas Day is a peaceful one for you and your family.  If you know that there is no chance of that- then don't forget that there are tips to cope and people that you can talk to such as Lifeline if it gets hard.
http://www.betterhealth.vic.gov.au/bhcv2/bhcarticles.nsf/pages/Christmas_can_be_stressful
My second wish is that everyone can have a mindful day – be able to enjoy the little things such as the taste of a really sweet cherry or a juicy ripe peach or a hug from a loved one or enjoying the warm sunshine on your skin or the cool water from the surf or a pool.  Be able to breathe slowly around any difficult emotions that arise and be able to let unhelpful thoughts  pass through your brain like clouds floating in the air. Enjoy some movement – playing backyard cricket, going for a post dinner stroll, have a swim.
As my clients know, my last wish is that you enjoy all the festive food that you really, really like on Christmas day but watch out for unmindful eating or you'll end up eating liquorice!
Cathie Lowe.