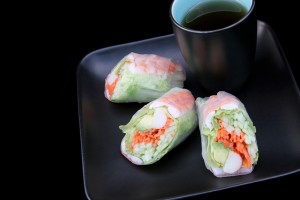 School has started and it can start getting hard to think of meals and snacks that children will eat that are healthy for their bodies.
There are lots of fancy meal ideas such as the chicken and salad rice noodle wraps photo HOWEVER parents can spend a lot of time and effort for these meals to be returned home untouched in the lunch box.
Click on the Healthy Together Achievement Program site for a great poster that you can stick on your fridge to help you and your children plan lunch ideas.  Even with fussy eaters I can usually negotiate a healthy lunch if there are enough ideas for them to choose from.
http://heas.healthytogether.vic.gov.au/schools/heathy-lunchboxes
Best wishes from one lunch box packer to another,  Cathie Lowe.