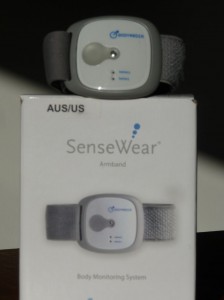 I've been looking for where to purchase these since I saw them being used in the ABC  Science's Making Australia Happy television show.  (This was a great show – you can still see the episodes on DVD if being happier is a goal for you).  These body monitors are brilliant and I expect that many Dietitians will be using them in the future.
I've been trialling one this week.  The monitoring system is worn on your left arm around your triceps muscle and monitors lots of things including daily movement, kilojoules burned, degree of physical activity, steps taken and even assesses quality of sleep!
This is going to be an extra tool that I can use with clients particularly those struggling with overweight and finding it hard to lose body fat.  The BodyMedia system measures daily energy expenditure.  If clients keep a food diary while wearing the BodyMedia , I will quickly be able to assess why weight loss has been difficult.
For athletes, this will assess energy expenditure and I will be able to really fine tune quantities of food needed for optimal performance with training and competition.
Keep an eye on the Website for the introductory offers for using this system in the next few weeks.