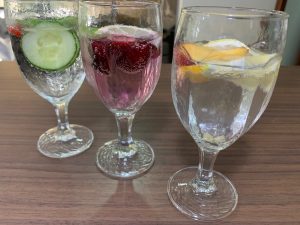 Infused waters can be a refreshing way to drink water when you've had enough water.  Those people in hot weather know exactly what I mean.  Infused waters have minimal sugar so are an alternative drink for people with diabetes.  This photo is an example of some Christmas colour infused drinks.
Cucumber slices, mint leaves and sliced chilli – this was quite refreshing.
Cherry, lemon slices and mint – my favourite for colour and taste.
Peach slices, lemon slices and ginger – not a strong flavour, so next time I'll be adding more ginger and peach.
There are plenty of websites with recipes and suggestions for infused waters.  I'd love to hear any favourite recipes that you have.
Wishing you all a happy and healthy festive season and a fantastic 2021.  Cathie