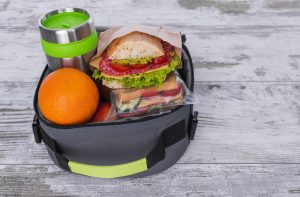 Jamie and Mark Witte (MJ Witte Builder) are brothers (and my cousins) and both are chippies and builders.  When I heard it was Tradie Health Month I thought of them as I know they eat and enjoy healthy lunches.
'Nothing special gets done here' was Mark's comment and he keeps healthy eating simple by taking leftovers or meat and salad or sandwiches and fruit.  Jamie said one of his favourite lunches was a salad including lettuce, grated carrot, cheese, boiled egg, tin of tuna with mayo or salad dressing.
Mark packs fruit and nut mix or several pieces of fruit for his snacks. He keeps it simple while getting plenty of energy to get him through the day.
In following the KISS principles of these tradies they are following basic healthy eating principles of picking a mix of foods for health and energy:
Protein – leftover lean meat or chicken, canned tuna or salmon, hard boiled egg, cheese, 3 bean mix, baked beans, nuts (occasionally salami or ham)
Energy – fruit, dried fruit, canned fruit, bread, bread rolls, wraps, crackers, leftover rice or rice cups, leftover pasta
Vegies – lettuce, spinach leaves, carrot, tomato, cucumber, celery, corn, radish, leftover roasted pumpkin or sweet potato, beetroot, or leftover stir fry vegetables
Plus Flavour – herbs, spices, salad dressing, sprinkle of nuts or seeds
Looking forward to hearing other Tradie Tips on healthy eating while on the tools.