Happy Monday Everyone,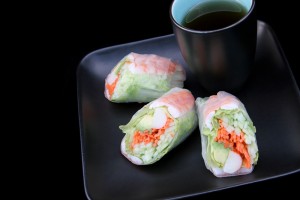 It's feeling like summer in Queensland which is when I start looking for salads.  Which is one way of boosting vegetables if you aren't getting your 5 vegetables a day.  Have a look at the link below for recipe ideas for vegetables.
The Asparagus Crumbed with Parmesan on Bocconcini Salad is a different way to eat asparagus which is in season now.  The Rice Paper Rolls are a great way to boost vegetables and these could be used at a party with the dipping sauce for a different snack. Continuing on with the Asian influence the Asian Salad with Snow Peas and Cashews is a refreshing crunchy salad.
http://pickrightfeelbright.com/nutrition-recipes
And finally a link to a website to help get ideas for how to encourage children to eat more vegetables….
http://www.nutritionaustralia.org/national/resource/vegetable-snacks-kids
Hope you take on the 5 Vegetable a Day challenge this week.
Regards Cathie.