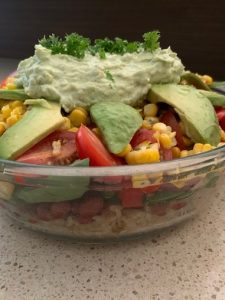 I have been experimenting with this salad as it has Christmas colours, has mexican flavours and a great source of fibres.
If you use the cooked brown rice from the supermarket and start grilling your corn while layering the rest of the ingredients, this salad can be finished in 15 minutes.  Put with grilled salmon (and chilli sauce) and you have a very quick easy meal.
Ingredients
2 cups cooked brown rice (buy prepared packet)
1/2 tspn ground cumin
400g can drained kidney beans
30g baby spinach leaves
1/2 diced red or green capsicum
200g punnet of cherry or other small tomatoes – halve the tomatoes
1/2 Spanish onion, sliced
2 cobs of corn
1 avocado
1 tbsp. lite sour cream
chilli powder to taste
cayenne powder to taste
handful fresh parsley
1/2 lemon juiced
1 tbsp. extra virgin olive oil
Method
Heat a non stick pan and start grilling corn cobs (takes about 10 minutes), turn every few minutes.
In a salad bowl, layer the brown rice and sprinkle cumin over top, then kidney beans, spinach leaves, diced capscium, tomatoes and onion.
Mix lemon juice and olive oil and sprinkle over the salad.
Once the corn has been grilled, slice the corn from the cob and sprinkle over the salad.
Slice half the avocado and layer on top.
Mash the other half avocado with lite sour cream, chilli and cayenne pepper and place on top of the salad and sprinkle with parsley.
Serves 6
Nutritional Information
Per serve Energy 1340kJ, Protein  10g, Fat 11.8g, Carbohydrate 37.3g Fibre 11g